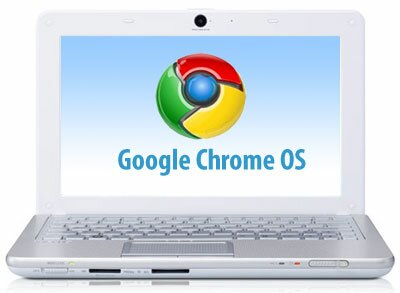 The future as of now is changing everyday. We are making the future happen every single day and every action we take changes the future a little bit. So yes, whether or not you decide to stop for that doughnut on your way back from work decides a lot of things and that is simply the start.
Thus when you start to think about how much the present can change the future, you will begin to appreciate that small ideas now are the things that cause the revolutions tomorrow. But you know that already don't you? , Apple, Linux etc were all started this way and the dreams of the men behind them have changed the way we look at things forever.
Recently, Google confirmed rumors that have been going around for quite some time now. Google is going to release a full-fledged OS called the Google Chrome OS. Although it is actually going to be a new Linux based OS, the idea behind the OS is something that is very much like Google.
Allow me to give you a short description of the Chrome OS before I launch into my discussion. The Chrome OS is named so because when it is launched sometime early next year, it is going to be a simple lightweight Linux based OS that will have a new windowing system and will essentially be a system that is focussed on getting you online as soon as possible. Hence it is Chrome running on its own OS.
Google has outlined that the key aspect of the OS will be speed, security and simplicity. Their primary objective for a long time has been to move every essential application to the Internet. They have been doing that quite successfully over the past few years and this new OS will be taking that vision one step closer to its culmination.

Thus I started thinking of what the future of gadgets could possibly be like when developers take the open sourced Chrome OS and great new web applications start to emerge. The Chrome OS is going to target netbooks at first and will then move on to full scale desktops (and laptops as well I guess). So let's take that as our point of departure.
From what I have been seeing in the netbooks segment, power is not what people are demanding. In fact, if netbook processors are anything they are a step backwards in computing power. The point here is mobility. Full scale chips need more power and more power consumption means less mobility. If there was no Intel Atom, there would've been custom made Windows running on ARM chips probably. Intel executives do have a good reason to hate ARM chips. ARM stole the iPhone from them. Intel cannot get anywhere near the power efficiency that ARM chips have and they have actually admitted this fact.
Thus it is safe to assume that the netbooks will only get marginally faster by this time next year but the software running on them will make it seem like it is an entirely new generation of portable devices.
And it will be a new generation because Google emphasizes on the light-weight and functionality part. Their aim is simple and precise. We as consumers don't want to wait around for our devices to boot and we do not want to be slowed down when we switch ultra-mobile and ultra-low-powered devices. Hence, it is only logical that the existing software conventions will be rewritten while the hardware struggles to catch up.
After all, software is much easier to constantly develop and reinvent than hardware. For e.g. the iPhone has changed a lot physically but the software level changes have arguably been much more significant. This is also easily demonstrated in the change from OS X 10.4 Tiger to OS X 10.5 Leopard and is meant to happen again in Snow Leopard. Same device but different OS equals to huge difference.
Hence, it is easy to understand what kind of an impact something like the Google Chrome OS can have. With Google as its maker, Linux at its core and the open source community as its nurturer – this OS is not only standing on the shoulders of giants but it is also likely to become one in its own right.

Coming back to hardware, Linux based light OS's are already becoming common preloaded secondary OS's on mainstream laptops. Even though they aren't used much, we can see a definite trend here. People want faster machines and what Windows or even Mac can't give them, perhaps the Chrome OS will.
Thankfully, one hardware challenge is almost as good as solved. SSDs are fast making appearances on lower end systems and soon they will become de facto. This ensures that even if faster low-power chips are not available by the next year, we will still have faster netbooks.
Netbooks are known for being, well, small. Even though that is their selling point, it is also the main complaint against them. Asus I would say has come up with a great solution to this and it is likely to see at least a moderate amount of adaption. By making the netbook a low-cost tablet, a whole new world of possibilities is unlocked.
It is common knowledge that as technologies become standards, prices drop like mad. If you do not believe me, think back to the time when CD-drives and CDRW drives were first introduced in to the market. We are seeing a similar thing happening with Blu Ray, if it at all becomes a standard like CD and DVD.
The Google Chrome OS will not run native Linux applications of any kind. Instead, it will run web applications. Google is right in saying that web applications give the developers the largest possible market – everyone who has access to the internet regardless of platform and device.
With this, Google will fulfill two very important thing. First it will take away from the processing and storage demanded of the device. Then it will ensure that Google has an OS in the market that makes having stripped down Windows or Linux completely unnecessary. You will simply open the netbook, press the power button, wait for three seconds and start checking your mail on a touch interface developed and maintained by the open source community.
Great UI, simple implementation, blazing speeds and full functionality with security courtesy Google and others. That is what you can expect when the Chrome OS finally gets through a development cycle. If it sounds tempting it's because it is.
source: OtakuGadgets.com