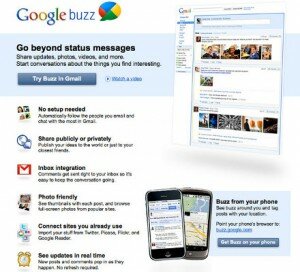 Google Buzz je novi Google-ov servis koji ste, ako imate gmail, siguran sam već do sad primetili a možda i počeli da koristite.
Odmah posle prvog ostavljenog komentara na nekom od Buzz-ova pojavio mi se novi mail, ali nije mail, nego obaveštenje da je neko odgovorio na moj buzz. Nešto kao notifikacija, ali u obliku mail-a. To me je odmah iznerviralo i odmah sam prionuo na posao da mail tog tipa više ne vidi svetlost inbox-a. Pa sam pomislio da bi bilo korisno da isti podelim sa svetom.
Dakle, treba uraditi sledeće:
1. Kliknite na link "Create a filter" odmah pored "Search the web" dugmeta
2. U subject polje unesite "Buzz:" – bey navodnika pa klik na next
3. Otkačite "skip the inbox" i "apply the label" i iz padajućeg menija kliknite na "new label" i stavite ime koje želite, ja sam stavio Buzz
4. Ukoliko želite da se dosadašnji mail-ovi koji su vam stigli ovog oblika isto izbacite iz inbox-a otkačite "Also apply filter to XX conversations below."
5. Klikom na "Create a filter" će svi do sad i od sad mailovi vezani za buzz ići u novostvoreni label koji će vam se naći u listi desno ispod inbox-a.
Toliko od mene, nadam se da je informacija bila korisna, ukoliko imate pitanja, slobodno ih postavite u komentarima.